VW-Porsche 914 1.7 Unique barnfind, original dutch delivery. Only 51000 kms!!!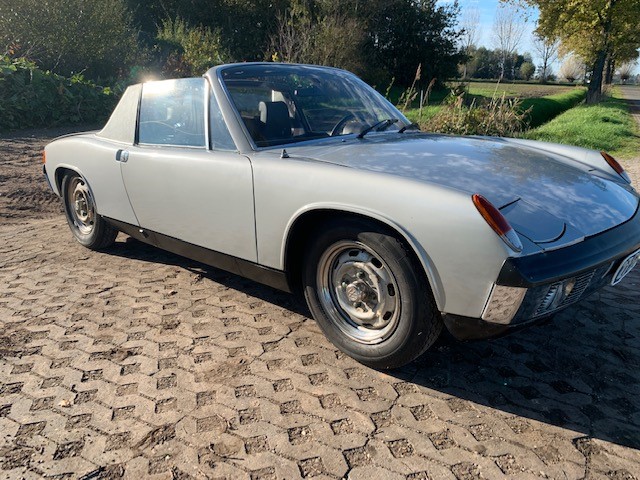 We have for sale, from our own private collection, a VW-914 barnfind.
The car has been found by Nico Aaldering in a shed with a number of Mercedes, Wartburg, Volvo's etc in the Netherlands.
Not knowing the cars were for sale, we came across this 914 when we visited a friend. He had the car and had it checked (new packed engine, brakes).
I bought the car for myself. The license was sleeping. Which means, it is known by the autorithies however no owner known.
Made an appointment at the RDW in the Netherlands and now the car has its own original Dutch license back.
The car, this is a very exceptional one. Registered in 1970 and new delivered by the Dealer in Rotterdam. In 1978 it was stocked in a barn, as described above.
Cinderella was born again in 2019 or 2020. The car is NOT welded and that is also not necessary. The car has been repainted once. Due to the storage it has some small damages and some minor "fly rust"on the motor hood.
The interior is in excellent condition. No damages, real top. The milage (kilometers) should be original. As the car has only driven for about 8 years and the original service booklet shows no real big distances per year. During the check up the motor has been removed and taken apart to check the condition. The condition is top.
The milage of 51000 should be original.
The car is complete, with new Vredestein classic tyres.
Where can you find an unrestored original European 914 which is not welded and is showing a nice history.
The car is not new, but it tells a honest story.
-Super barnfind
-original booklet and service book
-super original, not welded condition
-patina all over the body
-superb interior, not damaged.
-original colour (repained once in the early seventies)
-original dutch delivery and original licence plate (which can be kept in case the car stays in the Netherlands)