VOLKSWAGEN 1303 s gelbschwarzer Renner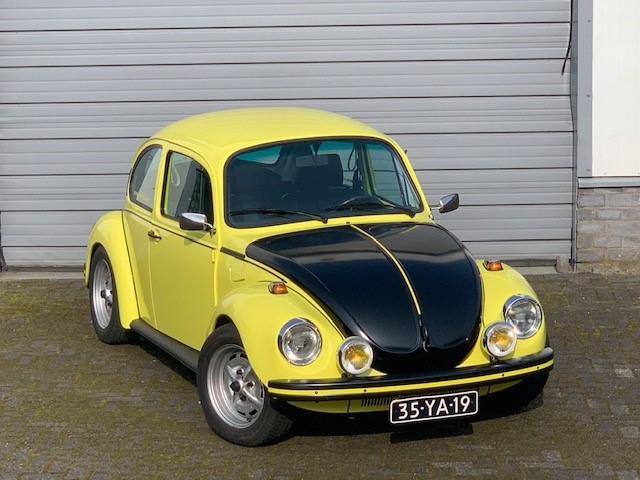 whoooow, unique, super unique, that is what you can say about this super beetle in the original yellow (saturn gelb) with matt black outfit.
With a number of 3500 produced in 1973 in the time of the oil crisis, Volkswagen wanted to make a sporty Beetle in order to beat the other sporty versions of its competitors. However, the beetle had only 50 hp, similar to the already existing 1303S with the 1600 cc.
However, the limited 3500 pcs were sold (only available for the German market) and nowadays a sought after.
With only about 100pcs known at this very moment, worldwide, this beetle is one of the most exclusive beetles to collect.
This one is already owned 29 years by the actual owner. He restored the car completely and drove only 2100 kms (the actual odometer) since restoration and motor revision.
The car is fully documented with the original Wolfsburg Certificate and even a letter to one of the previous owners who asked the factory if its car is an original gelbscharzer Renner.
A little bit lowered and 2 cibié lights (not working) give the car a powerful look. The car is in top condition. The interior is still original (seats and bench) and a time matching Grundig radio has been installed.
The alloys with the ET26 are all there (5 pieces).
Not a real bargain, but they are hardly to get these yellow black racers.
No further words. Look at the pictures. Are you searching a real Volkswagen investment, you found it here.
-29 years in actual owner ship.
-totally restored
-only 3500 pcs built, remaining about 100 pcs worldwide
-with certificate
-revised engine only 2100 kms
-real investment , collector's item