VOLKSWAGEN 1300 CABRIOLET "Bundes Grenzschutz" 1967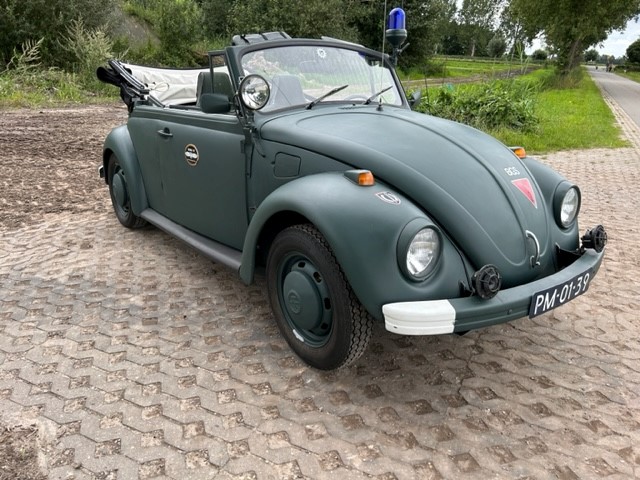 This is really a very rare Volkswagen convertible. If you look for original pictures or information, you hardly can find something.
The Bundesgrenzschutz (BGS) is the former name of the the German Bundespolizei (Federal Police).
The BGS was started in 1951 in order to protect the West German borders. It was a kind of in between of Police and army.

The Volkswagen we have is according to the Wolfsburg Certificate original delived to the Government , in an unidentified colour, with Sperr differential.
The car is matching numbers.
The car has been restored over the years and is now brought back in a very original condition.
Although the Volkswagen Convertible was not a terrain car, it was treated as such. Therefore it was equipped with the sperr differential. Very unique.
The engine was a 1300 cc, the car had also a damage protector under the front bumper and the front suspension.
A blue light was mounted on the left A style.
After its life as a BGS car, the VW convertible was used by the German Red Cross. Thereafter it was found in a terrible condition. The restoration took many years.
Although there are always details which can be improved , this is one of the most exclusive VW convertibles we have ever seen.

We think only a handful of cars have been produced in this outfit. The VW convertible has no chrome trim. No strips on the sides or bonnet, the runningboards, no vw logo. Even the chrome of the side windows have been laquered.

The engine has been re done, the gearbox also. During restauration many body and bottom parts have been replaced.
Do you want a unique, one of a kind (only a few are known in the Wolfsburg Museum or in private collection) VW 1300 Convertible ?

-Super rare VW Bug convertible
-Extreme exclusive
-lots of documentation
-matching car, Wolfsburg certificate showing this
-restored
-many gadgets of the BGS
-Blue light and seek light working.
-a box full of documents, restoration pictures available.