PORSCHE 911 2.4 coupe
1973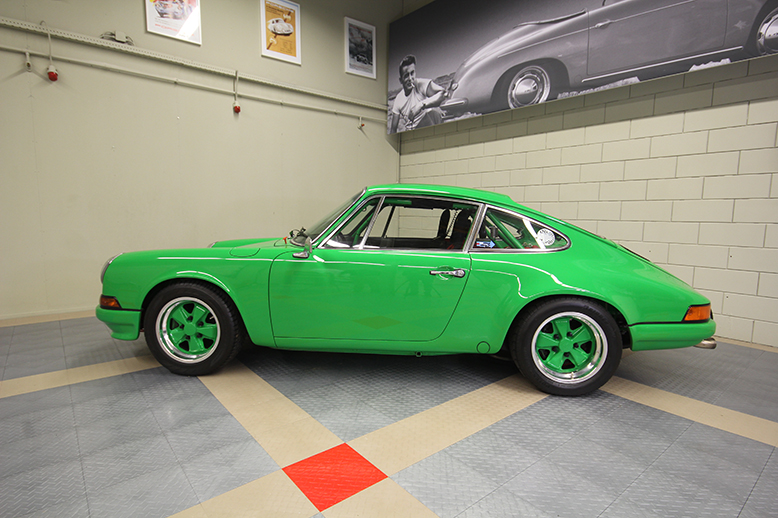 This car is not hot it is SUPER HOT. Body off restored 911 coupe from 1973. Originally delivered as a 2.4 T in the Netherlands and registered still there. Super hot due to fitting an ORIGINAL 2.7 RS engine (1974) which gives the car 210 HP. Besides that the car is fully equipped for rallies. Sport seats, roll bars, safety belts. No carpet, no radio, no head liner, no isolation. You will get less for more , ..... however with communication (head Phone) system, trip master and ..... sexappeal.
It is not only HOT under the hood, its appearance is may be even more sexy. The big "RS" hips (rear fenders), the color; the body and the 7 and 8 J 15 inch Fuchs painted in one of the best colours the Porsche family had : VIPER GRÜN.
This 911 is not cheap and will not become cheaper. The very expensive engine and the quality materials used made this car an investment. It is  a real eye catcher and a lovely  car to drive for experienced drivers. Turbo brakes, polished rims of the Fuchs, the S front spoiler together with its 2.7 RS behavior makes this car  a PORSCHE for PURISTS and a DIAMOND in your garage.
The restoration is fully documented by pictures. Nice detail in the docs is the original  "Pflegepass"  which shows the first delivery 15 march 1973 by Garage  Sanders in Arnhem the Netherlands.