LAMBORGHINI JARAMA S 1975 BARNFIND, SPANISH PAPERS, NEEDS COMPLETE WAKE UP CALL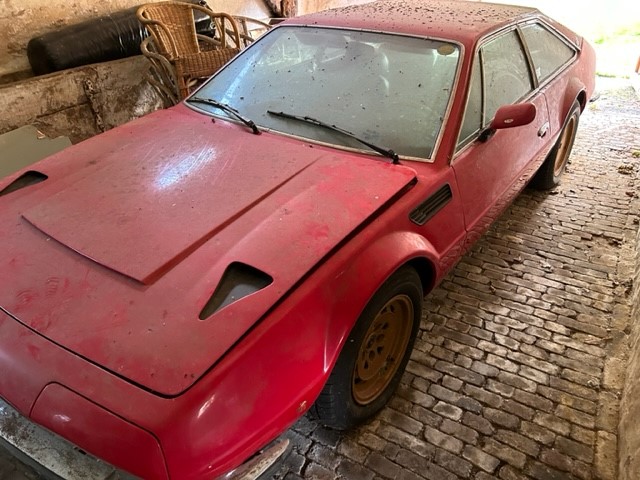 You like it or you hate it, the Lamborghini Jarama. If you look closer and longer to this car it is a fabulous Bertone design. Modern, no unnecessary luxurious things, very straight forward, nice due to simplicity.
Our car is a barnfind. We know the car already for years without moving and without signs of a quick wake up. This exclusive Jarama was bought in Spain in 2013 and moved to the Netherlands where it spend almost 10 years without moving. It was put in a driving / running condition and ended 10 years later as a Jarama patient which should be saved from the death. We took the car in order to sell it as it is. No restauration, no cleaning, what you see is what you get.
Lamborghini Jarama was first presented at the Geneva Motorshow in 1970 as the response to the Ferrari 365 2+2. The Jarama is designed by Marcello Gandini working at Bertone. Gandini also designed the legendary Lamborghini Miura. In total 328 Jamara's were produced of which 152 Jarama S. The difference between the Jarama and the Jarama S where the power increase, other seats and iso knock offs, 5 bold alloys where mounted. The V12 with 6 Weber 40 DCOE carbs improved the HP from 350 to 365.
A large hood scoop and exhaust vents in the front fenders improved cooling of the V12. The Jarama was the favourite car of Mr. Ferruccio Lamborghini himself.
Our car has spent its life till 2013 in Spain. It has been repainted, and as far as we can judge, well maintained till 2013. We had to dismantel the brakes in order to move the car and we found out that the discs are in nice condition (fly rust is there), The engine is not running and we will not try. It needs to be restored together with the rest of the car.
The owner informed us that the engine is a 3.5 iso of a 4.0. It should be a replacement however it has a motornumber what belongs to a 1966 lamborghini.
The body of the car is in a good condition. There are a few places which have to be restored, however we might say it is a very solid car. It is hard, around the fender areas, doors, hoods and bottom. The interior is completely original with a minor smoking hole in the driver seat. Carpets, dash, clocks are in nice condition and need only good cleaning.
As described, engine and brakes need thorough clean up, refreshment / revival.
The car is complete and comes with spanish documents. The car does not run and brake. Needs to be transported by a trailer with a winch.

The last picture is how the car arrived 10 years ago in driving condition. If it will be cleaned it will look still the same.
exclusive beautiful Bertone design
very original car
needs Engine and Brake revival with some investment. Engine is moving, not running.
only abt 150 pieces made of which excist for sure much less
nice interior