JEEP GRAND CHEROKEE LIMITED 1997 IN COLLECTOR'S CONDITION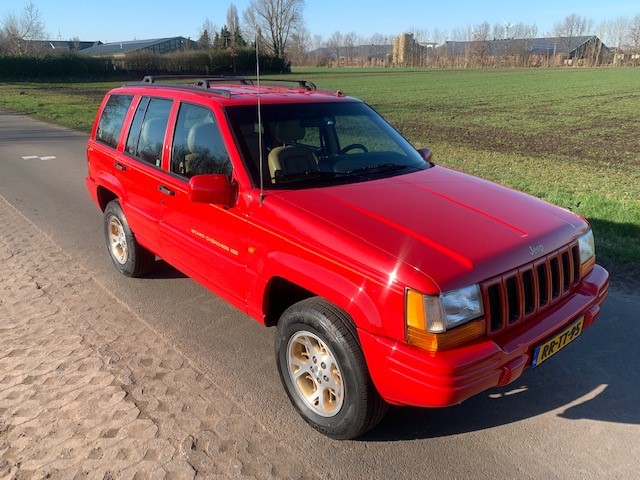 Jeep is a welknown brand for 4x4 vehicles. During the years it has proven its quality. Jeeps became very popular during World War II.
Nowadays the Jeeps are luxury cars which can stand the rough country roads but are mainly used as day to day driver.
We have a beutiful Jeep Grand Cherokee Limited which was delivered new in 1997 to its first and only owner in the Netherlands.
The car has been well maintained and you see there is taken care off. Although the 5.2L V8 has driven 300000 kms the car looks as it has only 40.000 kms.
The Cherokee has not been restored. There is much done to keep the car in this superb condition.
The underside of the car is as healthy as the body is showing. No rust, no questionmarks.
The drivetrain has been renewed here and there and recently 4 new tyres have been installed.
Hardly to find in this condition.
-original Dutch delivery with Carfax. 300700km is original
-super overall condition
– servicebook
-towing hook removable. tow weight 3500 kgs
-leather interior in superb condition for this age and milage.
-nice original alloys including spare wheel
-should be sold to a collector.