BENTLEY ARNAGE 4.4 v8 in blue metallic with creme leather interior 1999 (btw-vat)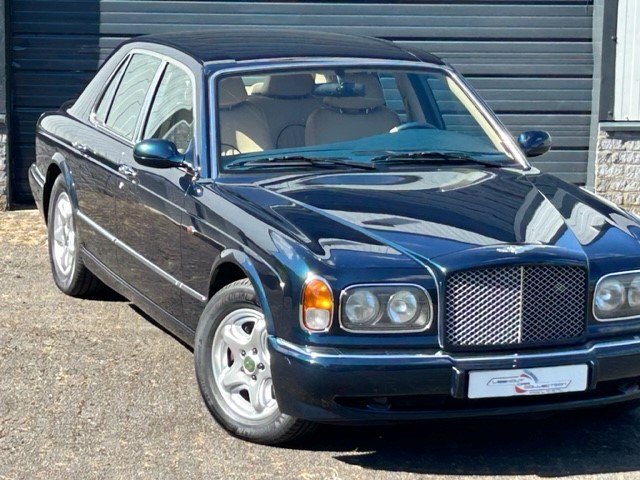 Bentley as brand has a hudge history. As a sports car brand in the thirties till a limousine brand related to Rolls Royce , a companionship with BMW and a part of the VW group.
In the late ninties Bentley had a cooperation with BMW. A result is that a V8 engine was mounted in the big Arnage. The opinions about this move are very different.
Some people only want to have a 6,75L Rolls royce v8 and some swear with the BMW v8.
What it should be is up to you. The BMW V8 belongs to the development and history of this beautiful brand and cannot wiped out.
One thing is for sure, the BMW v8 is a reliable and relative economic engine of which maintainance is easier and cheaper than the RR engines.
We have A very nice example 4.4 V8 which we sell for one of our customers.
He drove the car business wise (the VAT is deductable). Due to changes in live he decided to put the car in our hands in order to sell it.
The Bentley is one of the most comfortable limousines to drive. This Arnage has only 98276 kms on the odometer.
Recently the Bentley got a set of 4 new Michelin tyres and a fresh APK (Tuv-Mot)
Ready to serve you as new owner. Booklets and all keys present.
-Arnage in beautiful blue metallic paint and creme leather interior
-well maintained, 4 new tyres recently
-booklets and keys, tools
-nice overall condition
-VAT (btw) deductable
-Youngtimer tax arrangement in the Netherlands.
-Possible to take Landrover defender 2.4 in exchange. (Needs to be discussed with the owner)